Hot Android Game and App Deals: Do Not Miss Out
In today fast-paced digital world, Android and IOS users are spoiled with an immense selection of games and apps available on the Google Play Store and app store
Sep 19, 2023
0 Comments
20 Views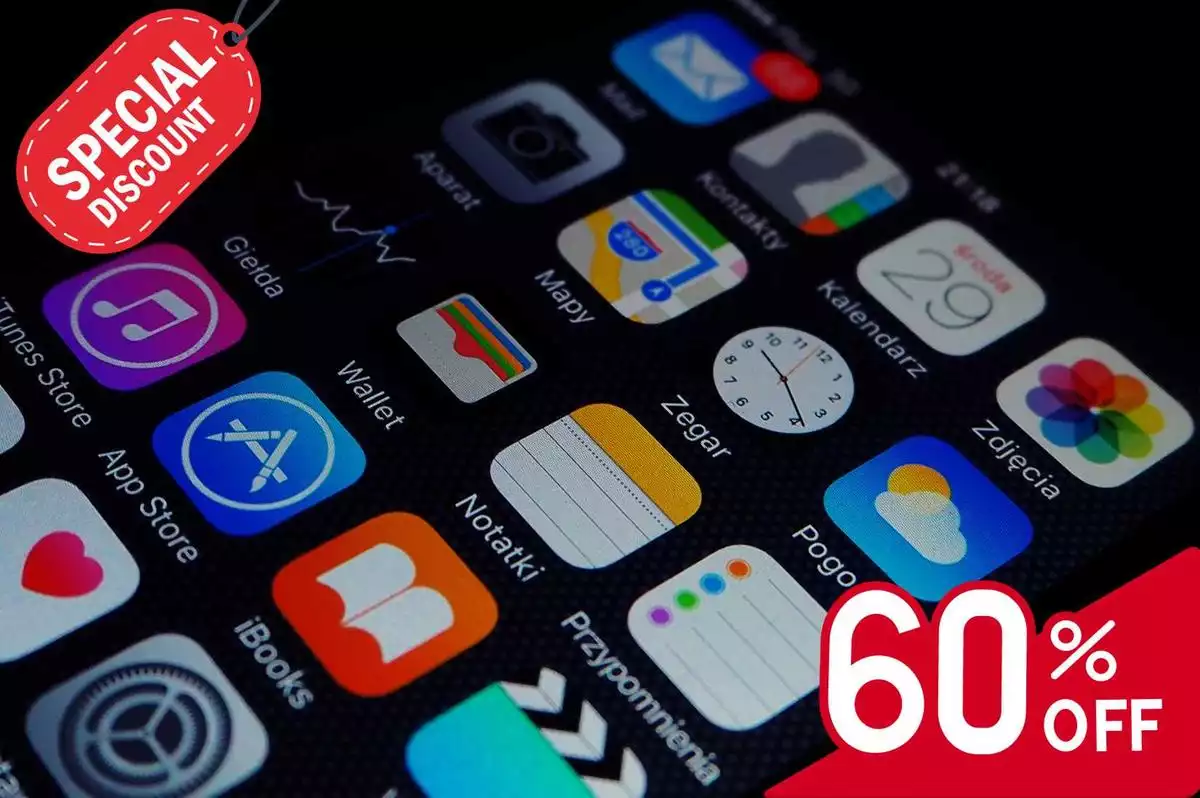 discount App on Android and Apple
However, navigating through this vast sea of options can be an intimidating task, especially when it comes to finding the best deals. That's where this article comes in: to be your ultimate guide to the best Android game and app deals of the day!
We understand the excitement of discovering new exciting games or stumbling upon valuable apps that can enhance productivity or bring joy to your day. More importantly, we recognize the value of economical options that allow you to enjoy premium content without breaking the bank. That's why taking advantage of these daily deals can be a real asset for Android enthusiasts.
Whether you're a casual gamer, an avid app enthusiast, or someone searching for hidden gems, our carefully curated selection of the best deals will cater to your needs. From thrilling adventures and challenging puzzles to productivity tools and creative apps, there's something for every taste.
As technology evolves and developers constantly release new innovative content, staying up-to-date can be challenging. We aim to streamline the process and present you with a comprehensive selection of the best Android game and app deals. Save time and money while exploring the digital wonders the Android ecosystem offers.
So, get ready to embark on a journey of discovery and entertainment. Join us as we unveil the best Android game and app deals, opening the door to countless possibilities and opportunities to make the most of your Android and IOS devices. Let's dive into the exciting world of discounted digital treasures and elevate your Android experience to new heights!
In this section, we present you with a selection of the best IOS and Android games and apps currently on sale or at discounted prices and free. These deals offer the perfect opportunity to discover thrilling adventures, challenging puzzles, and captivating virtual worlds without breaking the bank. Here is a list of some of these exciting games:
The best premium games of 2023 available on Android and iOS:
1. The King of Fighters
The legendary series, The King of Fighters, has made its grand return to the Play Store, offering players a compilation of the first four installments featuring no less than 38 iconic characters. As a bonus, you can now directly challenge your friends in intense battles.
The game's port provides a rich experience with several captivating game modes such as "Extra," "Advanced," and "Training." To fully immerse yourself in the action, you can connect a Bluetooth controller, ensuring total immersion in The King of Fighters universe.
Despite not receiving updates since 2017, this should not deter you from diving into the action and reliving the iconic moments of this legendary series on your mobile devices. So, get ready for the showdown, gather your friends, and dive into the thrilling world of The King of Fighters on your favorite smartphone or tablet!
2- GRIMVALOR
This game is sensational! Available on Android and iOS, it's a must-try new release, and you're bound to love it. Directly inspired by Castlevania, Grimvalor puts you in the shoes of a lone warrior with the crucial mission of restoring order to the corrupted realm of Vallaris. Unfortunately, from the start of your adventure, a powerful entity transports you to a dark underworld, where several exciting levels await.
Grimvalor's controls are specifically designed for touchscreens. Movement buttons are located on the left side of the screen, while jump, dodge, and attack buttons can be found on the right. By clicking and sliding the attack button, you can dodge at the right moment to unleash special moves, adding even more intensity to your battles.
The best part is that this version of Grimvalor allows you to play the first episode for free. Each episode lasts 2 to 3 hours and challenges you to face numerous enemies. You'll also have the option to customize your character with different weapons and armor to enhance their abilities.
Grimvalor is a true gem that promises thrilling experiences and an unforgettable gaming adventure. Don't wait any longer. Dive into this exciting journey right now!
3- Dead Cells
Dead Cells is one of the best indie games of the last decade, available on both the Play Store for Android devices and the App Store for iOS devices. This successful fusion of rogue-like, Metroidvania, and Souls elements makes it a true masterpiece in video games. Thanks to an excellent port, players on both Android and iOS can finally enjoy this exceptional gaming experience.
Every aspect of Dead Cells blends so harmoniously that it's hard to find any natural flaws. Of course, some may feel challenged by the intense difficulty, but that's a matter of personal taste.
When you delve into Dead Cells, you can use Bluetooth controllers (the optimal way to play) or take advantage of excellent touchscreen controls specially designed for mobile devices. The port is so well executed that I haven't encountered any issues, hiccups, or bugs, even after numerous hours of gameplay. The game's art, including the character and enemy designs, deserves accolades.
As a rogue-like, death is permanent in Dead Cells. If you fail, you'll start over from your cell and have to begin anew. However, each new run is different, making every adventure unique and requiring a strategic approach. With various loot available to create different configurations, each gaming experience is distinct, but bear in mind that if you die, you lose everything. Nevertheless, this should not discourage you, as Dead Cells offers a captivating gaming experience worth exploring on both the Play Store and the App Store.
Best free game on Android and Appstore
1. Wuthering Waves
Wuthering Waves is an action-packed role-playing game for Android, immersing players in a post-apocalyptic world. The adventure begins with Rover, who wakes up in an unknown location, and together, you must uncover the secrets of this universe.
A century ago, a cataclysmic event called "Calament" brought forth terrifying unknown beings that threatened civilization. Despite this, hope of rebuilding a better world persists, but the threat lingers, demanding that you confront these fearsome beings to save humanity.
Explore a captivating open world in Wuthering Waves, solve intricate puzzles, and engage in spectacular battles. The game showcases characters with unique and visually appealing styles, each with their combat abilities and techniques. Choose your allies wisely to embark on a successful quest.
The story of Wuthering Waves will take you to different locations, providing an exciting adventure with unforgettable characters. The game's release is set for the second half of 2024.
To participate in the closed beta version of Wuthering Waves, visit the game's official website and click on the "Join Closed Beta" button at the bottom of the homepage. Enter your valid email address, and if selected, you will receive an invitation via email. Prepare to immerse yourself in this captivating universe and uncover the mysteries that await you! Download Link
2. Naraka Bladepoint
Naraka: Bladepoint is an engaging battle royale game where up to 60 players battle to become the last one standing. Inspired by martial arts, the game emphasizes dynamic melee combat and features a rock-paper-scissors combat system. You'll have access to a vast arsenal of melee and ranged weapons and a grappling hook that adds an extra dimension to your fights and movements.
At the heart of Morus Island, heroes gather to engage in epic battles. Each player can choose from Solo, Duo, or Trio modes; over nine unique heroes await you. Each hero possesses two distinct skills: an F skill and an Ultimate skill, allowing you to customize your gameplay experience according to your preferred style.
Explore a world where adrenaline is at its peak, where your character's unique skills and talents play a crucial role in your quest for victory. Face formidable opponents, team up with friends, and strategize cleverly to become the ultimate champion of Naraka: Bladepoint. Immerse yourself in the frantic action of this intense battle game and get ready to experience unforgettable moments of bravery and survival. Be prepared to push your limits and showcase your martial arts mastery to triumph in this unforgiving world. Download Link
3. Honkai: Star Rail
Honkai: Star Rail is a tactical role-playing game developed by miHoYo, part of the popular Honkai series. In this fourth installment, players will discover exciting new characters and alternative versions of characters from Honkai Impact 3rd. Officially released on April 26, 2023, on Microsoft Windows, Android, and iOS, this game offers an immersive experience in a captivating interstellar world.
The title "Star Rail" refers to the interstellar train in the game, while "Honkai" denotes the main antagonistic force that seeks to destroy civilizations as they advance technologically. The term "Honkai" is derived from the Japanese 崩壊 (rōmaji: hōkai), meaning decay or destruction.
The gameplay system of Honkai: Star Rail allows players to form a team of four characters and engage in strategic turn-based combat. The game also features elements of open-world exploration and dungeons, allowing players to fully immerse themselves in the rich and captivating world of Honkai.
Embark on this thrilling adventure and explore an interstellar world filled with challenges and mysteries to unravel. Engage in tactical combat, master your skills, and form an unbeatable team to triumph over the forces of Honkai and save civilizations from destruction. Be part of this epic saga and explore the fascinating universe of Honkai: Star Rail now! Download Link
4. Undawn
Explore, adapt, and survive in Undawn, a free-to-play open-world survival RPG for mobile and PC developed by LightSpeed Studios and published by Level Infinite. Dive into an exhilarating adventure with other survivors four years after a global catastrophe unleashing infected hordes in a shattered world.
Undawn offers a unique gameplay experience by combining PvP and PvE modes, as players must contend with threats from the infected and other humans to survive in this apocalyptic wasteland.
Become a master of endurance and protect your home, allies, and what remains of humanity against all odds. The open and realistic world of Undawn, created with Unreal Engine 4, is filled with striking details.
In this unforgiving world, players must face changing weather conditions such as rain, heat, snow, and storms. They must closely monitor their character's survival indicators, such as hunger, health, hydration, stamina, and even mood, which environmental changes affect in real-time.
Players can customize their character's appearance and outfits, interact with other players to trade weapons and resources, and fight to protect their belongings and survival. Prepare for an immersive and thrilling experience in the ruthless world of Undawn! Download Link
These games are just a glimpse of the incredible diversity of current deals on the web, Play Store, or the App Store. Each game offers a unique and immersive experience that will allow you to escape and entertain yourself for hours.
Android and iOS App Deals
This section presents you with a selection of the best Android and iOS games and apps currently on sale or at discounted prices. These deals offer the perfect opportunity to discover must-have apps and engaging games without breaking the bank. Here is a list of some of these exciting deals:
1. Moises:
The Moises app is a real gem for musicians and music enthusiasts alike. It uniquely isolates sounds such as bass, percussion, or even the singer's voice in a song. It's like playing with your favorite artists, taking control of the musical parts that enchant you the most. With this app, musical creativity reaches new heights, allowing musicians to flourish in their passion fully.
Whether you are a beginner or a professional, Moises provides a playground where you can freely explore and experiment with different instruments and voices. This app becomes an indispensable companion for aspiring musicians, offering the opportunity to play and record unique covers.
Whether you want to enhance your musical skills, have fun with original arrangements, or create unique covers, Moises is the perfect tool to bring your musical ideas to life. With its wide range of features and user-friendly interface, the Moises app is a blessing for all music lovers and musicians seeking inspiration and expression. Link here
2. vFlat:
vFlat is a revolutionary app that allows you to scan your books quickly and elegantly. Say goodbye to curved and distorted pages during scanning - thanks to vFlat's deep learning technology, pages are flattened with remarkable precision, delivering crisp and high-quality scans.
Once you've scanned your books with vFlat, you can create a library of e-books, enabling you to access your favorite reads wherever you go, directly from your mobile device. No need to carry stacks of physical books - vFlat lets you take your entire library with you in your pocket.
Not only does vFlat provide a convenient solution for preserving your books in digital format, but it also preserves the beauty and integrity of your works. No more tearing or distorting pages to scan them. With vFlat, your books remain intact and ready to be enjoyed repeatedly.
Whether you're a student looking to scan your textbooks, a book enthusiast wanting to create a personal digital library, or a professional needing to store essential documents, vFlat is the perfect tool for quick and high-quality scanning. Simplify your life and transform your physical library into a collection of ebooks with vFlat. link here
3. SMS Backup & Restore
SMS Backup & Restore is an essential app for anyone looking to back up and safeguard their SMS and MMS messages and call logs. With this app, you can easily create a copy of your important notes and calls to avoid data loss.
With SMS Backup & Restore, you can regularly back up your messages and calls to keep them safe. If you switch phones or accidentally lose important messages, you can restore your backups to retrieve all your valuable messages and calls.
This app is handy for regularly receiving essential messages or crucial information via SMS. In case of phone loss or malfunction, you can rest assured that your data is secure thanks to the backups made by SMS Backup & Restore.
Remember that you need to have prior backups to restore call logs and messages. With SMS Backup & Restore, you can have peace of mind and be sure that your important data is protected and accessible anytime. Simplify the management of your messages and calls with this practical and reliable app. link here
4. AppDrop
With AppDrop, you can easily select and uninstall multiple apps simultaneously, saving time and space on your phone.
AppDrop's user-friendly interface makes the process of uninstalling apps simple and quick. Just check the apps you want to remove, then tap the uninstall button to delete them all in one go.
In addition to uninstalling apps, AppDrop lets you view detailed information about each app, including the app's size, version, and installation date. This helps you decide which apps to keep and which ones to remove. Whether you need to free up space on your phone or tidy up your apps, AppDrop is the perfect tool to help you uninstall multiple apps in a few simple steps.
Remember that uninstalling unused apps can free up space on your phone and improve overall device performance by reducing the system's workload.
Simplify app management with AppDrop and enjoy a faster and more efficient phone without unnecessary apps slowing you down. Download AppDrop today and see how easy it is to uninstall multiple apps simultaneously. link here
5. Monitor+
The Monitor+ app is an innovative solution that turns your phone into a dedicated monitor for Sony cameras. This app offers an exceptional user experience by allowing users to view real-time images and videos captured by their Sony camera directly on their phones.
With Monitor+, you can easily control and adjust the settings of your Sony camera remotely, giving you complete control over the quality of your shots. Whether you're a professional photographer or simply an enthusiast passionate about photography, this app allows you to view your images and videos on a larger screen and instantly share them with your friends and family.
Monitor+'s user-friendly interface makes navigation easy, allowing users to focus entirely on their artistic creativity without being limited by the camera's screen. Additionally, the app offers high-definition image quality for an immersive visual experience.
Monitor+ is currently available exclusively for Sony cameras, making it a one-of-a-kind app. If you own a Sony camera, this app enhances your shooting and viewing experience.
Discover Monitor+ now and turn your phone into a dedicated monitor for your Sony camera for even more creative shots and unforgettable sharing moments with your loved ones.
Discover new discounted Android and iOS apps and enhance your mobile experience by taking advantage of these exceptional deals. Download the apps that interest you now and enjoy their advanced features at a lower cost. Remember that these deals are time-limited, so don't hesitate to use them! link here
Game name

Premium Game

The King of Fighters

GRIMVALOR

Dead Cells

Free Game

Wuthering Waves

Naraka Bladepoint

Honkai: Star Rail

Undrawn

Deals

Moises

vFlat:

SMS Backup & Restore
This article has highlighted the best Android and iOS game and app deals currently available, offering users a unique opportunity to discover exciting new experiences at discounted prices. From thrilling action games to practical apps, there's something for every taste.
We have explored games like "Wuthering Waves," transporting players to a post-apocalyptic world, and "Honkai: Star Rail," featuring turn-based strategic combat. Additionally, valuable apps like "vFlat" for quick book scanning or "SMS Backup & Restore" for safeguarding SMS messages and call logs have been featured.
We have also emphasized using these deals to optimize Android or iOS device usage and discover new functionalities. However, respecting copyright and ensuring safety when downloading apps and games is crucial. Avoid suspicious sources and unauthorized downloads to preserve the security of your device.
With this in mind, make the most of these deals to enrich your mobile experience and discover new entertainment options. Don't forget to follow the tips for finding the best deals and subscribe to developer newsletters and specialized sites to stay informed of promotions.
Whether it's thrilling games or practical apps, these deals will enable you to make the most of your Android or iOS device and fully enjoy its potential. Happy discoveries and responsible use of your favorite games and apps!