Mount Kilimanjaro, Ascent, Ultimate guide
Are you dreaming of adventure and pushing yourself to the limit? Do you want to take on the ultimate climbing challenge and discover breathtaking panoramas?
Sep 03, 2023
1 Comments
399 Views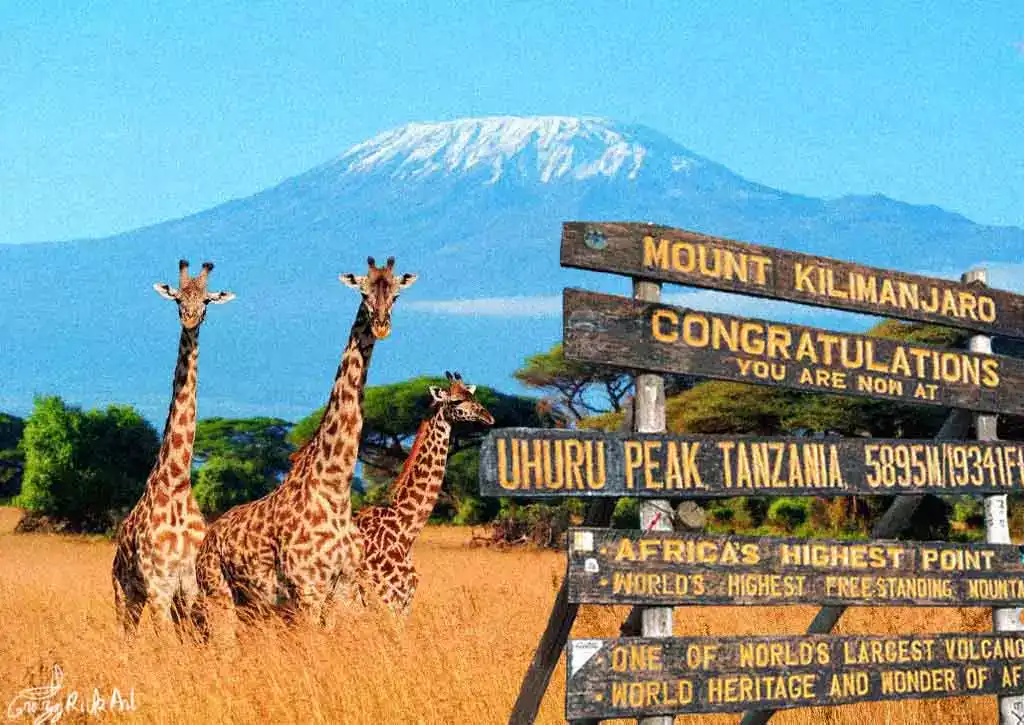 Giraffes and wood Banner of The Mount Kilimanjaro
Then Mount Kilimanjaro is for you! At 5,895 meters, it is the highest peak in Africa and attracts thousands of climbers every year. But be warned, and this ascent is not to be taken lightly. It requires rigorous preparation, the most robust and adequate equipment, and specific knowledge to avoid the pitfalls of the mountain. In this article, we offer you a guide to climbing Mount Kilimanjaro, with indispensable tips and tricks to help you reach the summit safely and have an unforgettable experience. Another consideration is that you can bring new information after the ascent through your own experience as discoveries are made daily. So dont hesitate to share your experiences in the comments to make this article the ultimate guide to withstand any challenge. Ready to take on the challenge? Follow the guide!"
What type of preparation is needed for the climb?
Road running, trail running, and weight training can all work wonders for training to climb Mount Kilimanjaro. However, other tests also need to be considered, such as the medical test, which generally revolves around the hypoxia test. To understand quickly, the hypoxia test is an exercise test on a bike, a treadmill, or other equipment where you are given an oxygen mask or a tube in your mouth while your nose is pinched.
The principle is simple; the oxygen level in the air you receive is lowered to achieve an oxygen level equivalent to the altitude of a mountain like Kilimanjaro. It is done to see how your body reacts to high altitude or a similar situation. There is a score to achieve, based on which the doctors will tell you whether you are fit. One thing to consider is that, despite the importance of the test, it is only 60-70%, so just taking the test does not guarantee reaching the summit.
According to most travel agencies requiring this test, 3 to 5% of the population could not reach an altitude of 4500 meters. Therefore, consider going to your regular doctor to get a prescription and put all the odds in your favor to be able to see the roof of Africa. Also, focus on cardio, strength, and endurance because they are non-negotiable if you want to finish the journey.
Which route to choose to reach the summit?
To reach the summit of Kilimanjaro, there are several different routes, each offering a unique experience for mountaineers seeking adventure and challenges. The route choice will depend on your preferences, fitness level, and mountaineering skills. Here is an overview of the most popular ways to climb Kilimanjaro, including:
The Machame Route takes about 6-7 days to arrive and is known as the "Whiskey Route." It is one of the most popular routes for climbing Kilimanjaro. The Machame Route is longer than other routes, allowing for better altitude acclimatization. It also offers spectacular views of Mount Meru and the Shira Crater. Before reaching the summit, you will pass through the tropical rainforest, alpine meadows, and high-altitude desert.
The Marangu Route takes about four days to arrive, known as the "Coca-Cola Route." The Marangu Route is the most frequently used route for climbing Kilimanjaro. It is less technical than other routes, making it ideal for beginner climbers. It also offers comfortable huts for overnight stays. Before reaching the summit, you will pass through the tropical rainforest, alpine meadows, and high-altitude desert.
The Lemosho Route takes about eight days to arrive. It is one of the most scenic routes for climbing Kilimanjaro. It offers a panoramic view of the mountain glaciers and allows for better acclimatization to the altitude. The Lemosho Route is longer than other routes, making it more expensive but less crowded, allowing you to enjoy the experience in peace.
The Rongai Route takes about 6-7 days to arrive. The Rongai Route is the easiest route for climbing Kilimanjaro. It is ideal for beginner climbers or those seeking a more gentle experience. The Rongai Route also offers spectacular views of Mount Kenya and the African savannah. Along the way, you will pass through pine and cedar forests before reaching the summit.
Remember, the SHIRA routes take 7-10 days, and the UMBWE route takes six days.
Which agencies to use to get there?
You may have guessed that you need a guide to climb. Otherwise, you are putting your life at risk. Travel agencies will know how to guide you and provide you with the right information for an optimal experience. Good organization will allow you to travel with peace of mind and simplicity to enjoy the adventure fully. Travel agencies can manage elements such as the number of guides, the number of porters, emergency medical equipment, and all the necessary food.
The insurance aspect, such as cancellation insurance, covers the entire trip and provides peace of mind. You can choose a travel agency based on the route you want to take. A small piece of advice is to choose an agency that fully answers all your questions so that you feel confident and at ease.
What is the essential equipment for climbing Kilimanjaro?
Properly preparing your equipment is crucial for a successful climb of Kilimanjaro. For this, it is essential to have suitable and quality equipment. Here is a list of necessary equipment for a successful ascent of Kilimanjaro, which you can find in our online shop:
Sturdy hiking boots:

Strong and comfortable boots are essential for successfully climbing Kilimanjaro. Our shoes are specially designed to offer good grip, excellent stability, and optimal comfort for long hikes.

Hiking clothing:

We offer a wide selection of hiking clothing to face all weather and geographical conditions. Lightweight clothing for the day, warm layers for cold nights, and a poncho or waterproof jacket for rainy days.
Backpack:

Our spacious and comfortable bags will allow you to carry all your equipment and supplies during the climb.
Sleeping bag:

We offer warm and comfortable sleeping bags for cold nights at high altitudes.
Hiking poles:

Our hiking poles are designed to reduce tension on the legs and knees and improve balance when walking on rugged terrain.
Headlamp:

Our headlamps are essential for night walks to the summit; they are lightweight, reliable, and offer optimal brightness.
Oxygen mask:

For emergencies, an oxygen mask can be helpful in case of hypoxia, a condition that can occur at high altitudes when the air is low in oxygen.
waterproof vest

Columbia Birch Woods jacket
Mens canvas long-sleeve work shirt
Heavy-duty workwear trousers
Waterproof Poncho Junior with Ferrino (green)
UYN Evolution long-sleeve underwear shirt for men
The North Face Gordon Lyons vest
Tribord Sailing 100 C 305955 beanie
Cressi Rocker fins
Parstep The True Golfers sock
Climbers Long 5-finger gloves
24 Wholesale Mens Safari Boonie hat
UYN Evolution long-sleeve underwear shirt for women
Womens canvas long-sleeve work shirt
Cross sports bra
Sport-Tek Ladies PosiCharge Electric Heather Sporty Tee (LST390)
You can also add small mats, flashlights, rain gear, etc.
At our online shop, you can find all the necessary equipment for a successful climb of Kilimanjaro. We guarantee the quality of our products and excellent customer service.
What is the budget for the trip?
Climbing Mount Kilimanjaro is an extraordinary adventure that offers breathtaking landscapes, personal growth, and unforgettable memories. As we have explored in this guide, proper preparation, including physical and mental training, medical tests, and acquiring high-quality equipment, is crucial for a successful ascent. Choosing the correct route and travel agency, ensuring safety measures, and being aware of the budget are also important factors. Throughout this journey, you can immerse yourself in the wilderness, discover the local culture, and experience personal satisfaction and self-transcendence. By sharing our cultural discoveries and experiences, we can collectively create the ultimate guide for conquering any challenge. So, are you ready to embark on this remarkable journey and make your dreams come true?