The Green Card | How to Obtain It Through the Visa Lottery?
The green card, also known as a permanent resident card in the USA, is advantageous for living without fear in the United States
Sep 03, 2023
0 Comments
294 Views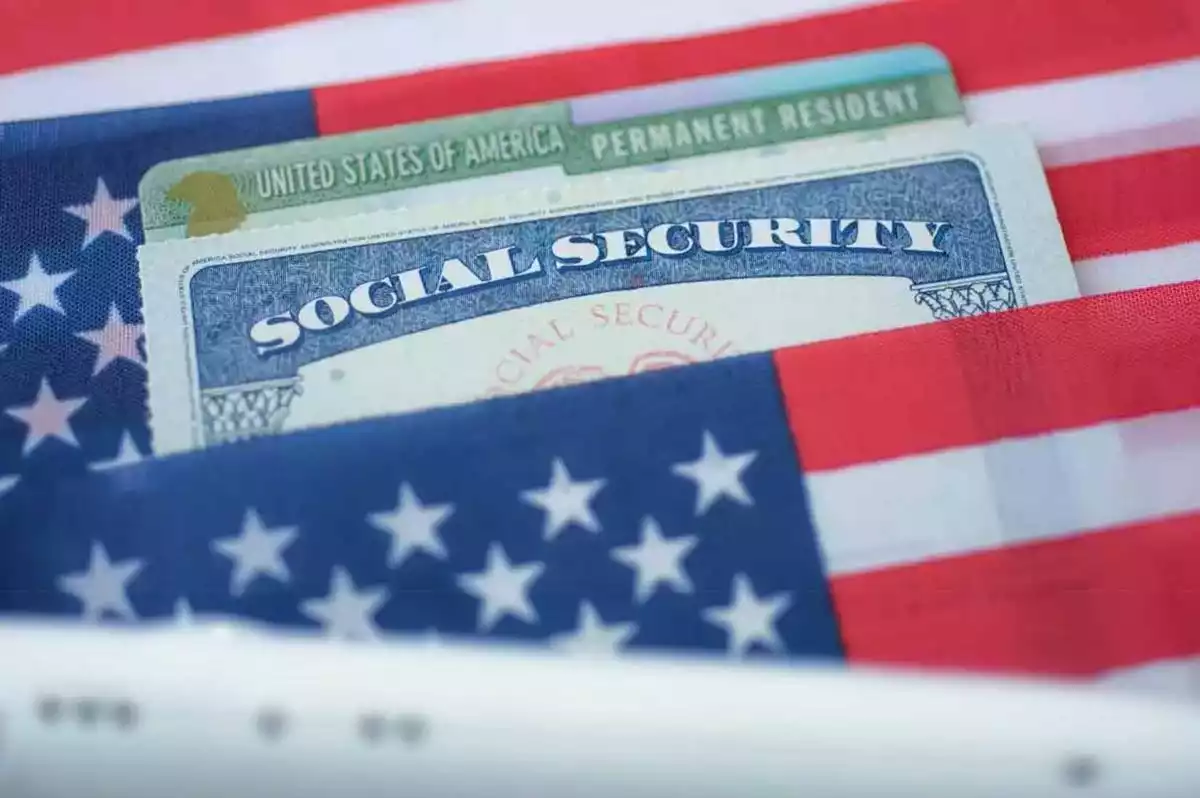 USA Permanent Resident (Green card) and Social security number (SSN) covered on American flag.


The green card is an identification document issued by the US Citizenship and Immigration Services, granting its holder the right to reside and work permanently in the US. It confers the same rights and obligations as a US citizen, except for the right to vote, which requires naturalization. There are several ways to obtain a green card, but the easiest method is the lottery. However, before applying, there are certain conditions to be met:
I- Conditions to participate in the Visa lottery
The US government establishes these conditions, and they are strictly enforced. The first condition is to be born in an eligible country, as determined by the US Department of State. The list of eligible countries may change yearly, so checking if your country is suitable before applying is essential. The second condition is that the applicant must have a high school diploma or equivalent work experience. This condition is critical as it determines the applicants ability to integrate easily into American society. The third condition is that each person can submit only one application. If a person submits multiple applications, all of their applications will be disqualified. The fourth condition is that the application must be completed correctly and submitted before the deadline. Incomplete or late applications will not be accepted. By meeting these conditions, you can participate in the Visa lottery and have a chance to win a green card to live and work in the US.
II- How to participate in the Green Card lottery
Entries can only be submitted once per person for each period of participation. Multiple entries automatically disqualify the candidate. To participate, candidates must fill out an online application form, which includes personal information such as full name, date of birth, country of origin, education level, and work history. Candidates must also provide a recent passport-style photo when applying.
After the entry period, the computer makes a random selection to choose potential winners. Potential winners are then notified by email and invited to apply for a Diversity Visa (DV) at the US Embassy or Consulate in their country of origin. Winners must also interview a consular officer to determine their eligibility for a Diversity Visa. It is important to note that Visa lottery winners are not automatically eligible for a Diversity Visa. Winners must meet specific requirements, including passing a security check and meeting health and financial conditions, to obtain their Diversity Visa.
III- More Precision for Registrations
With the lottery, around 50 thousand people worldwide obtain a green card yearly. The lottery is organized by the "US Citizenship and Immigration Services" in October. It requires going through two steps.
1 - Eligibility
To participate in the lottery, you must first be eligible. You must be a native of a country on the list of eligible states whose citizens are eligible. The list of non-eligible countries established by the US government may vary yearly. You must also have a bachelors degree or, failing that, have held a position requiring at least two years of professional experience in the last five years.
2 - List of non-qualified countries for the Green Card
Bangladesh, Brazil, Canada, Colombia, South Korea, El Salvador, Guatemala, Haiti, Honduras, India, Jamaica, Mexico, Nigeria, Pakistan, Philippines, Dominican Republic, Peoples Republic of China (including Hong Kong SAR), United Kingdom (except Northern Ireland) and its dependent territories, Vietnam.
Note that this list is updated every year.
3 - Registration
You must first fill out a free online form on the official website DVLottery.state.gov, which only takes five minutes. You must complete a questionnaire and submit a photo at least six months old in the indicated format. Once the form is validated, no further modifications can be made. Therefore, you must take care to fill it out correctly. You can register on the site yourself, and under no circumstances should you pay to be registered because, as the name suggests, it is a lottery, and there is no guarantee that you will be selected.
4 - How do you fill out the registration form?
a - Verification
The first thing to know about how to fill out the DV Lottery form is that the registration form is only available during the registration period for the DV Lottery program. Outside of this period, you cannot fill out the registration form and enter the code you see in the image. This is a system to ensure that you are a human. Fill it out and click the submit button (of course, this is an example, you will have your code once on the site).
After verifying that you are human, you will be presented with the DS-5501 electronic form used to apply for the DV Lottery competition. It is now a matter of filling out each section by the competition regulations. The explanations for each section are detailed in the rest of this post.
b - Last name and first name
Section 1 to be completed is the candidates name. There are three boxes to fill out:
1. Last/Family name: In French, this is equivalent to the family name, e.g., Mbungu.
2. First name: In French, this is equivalent to the first name, e.g., Joseph.
3. Middle name: The middle name can be a bit tricky for Francophones, as officially, it refers to the second name, literally the name that is between the last name and the first name. For our purposes, it is equivalent to the post-name.
c - Gender, Birthdate, City
In section 2, there is the candidates gender, commonly referred to as sex. You have either:
1. Male: to say masculine, man, or boy.
2. Female: to say feminine, woman, or girl.
It would be best if you ticked the correct box.
In section 3, you must provide the candidates date of birth. Three fields need to be filled out:
1. Month: The month you were born. You should write the month number between 01 and, e.g., if you were born in July, you will write 07.
2. Day: The day you were born in two numbers between 01 and 31.
3. Year: This is your year of birth. Ex: 1996
City Where You Were Born (Birth city)
Section number 4 asks for the city where you were born. As mentioned right next to it, do not provide the district, country, province, or state. If you do not know your birth city, check Birth City Unknown below.
Country Where You Were Born (Birth country)
In section number 5, through the dropdown list, you should select the country where you were born. Note that this should be different from the country where you are currently residing.
Country of Eligibility for the DV Program (Eligibility country)
Your country of birth may differ from your current country, and your current country may not be eligible for the lottery. If this is the case, "Are you claiming eligibility based on the country where you were born?" asks if you are eligible based on your country of birth.
If yes, which is mostly the case, do not change anything and move on to the next section. If not, you can only be eligible in two cases:
1. If your spouses country is eligible, you can use that country
2. If one of your parents countries is eligible
d - a passport
1. The name, surname, and first name that appears on the passport
2. Its identification number
3. Its expiration date
4. The country that issued it
e - Special case for passport
Since DV 2021, a passport in the DV Lottery application form has become mandatory. However, the passport is not compulsory:
· If the candidate has no nationality
· If the candidate is a national of a communist-controlled country and unable to obtain a passport from my government.
· If it is impossible for the candidate to obtain a passport and has received an individual waiver of the passport requirement from the Secretary of Homeland Security or the Secretary of State.
Do not check section B if you are not eligible for the 3 choices. You will be disqualified in the long run during the control.
f - Entrant Photograph
In section number 7, you need to provide a photo. Click on Choose New Photo to select an image. Learn more about the picture. A good photo increases the chances of being selected.
g -Mailing Address
In section number 8, 7 fields are filled in, 2 of which are optional.
· In the care of Your holder... (this is optional information)
· Address line 1: Your postal address. (number, street, neighborhood, commune for those in the DRC)
· Address line: Your second postal address (optional.)
· City/Town: This is equivalent to the city
· District/County/Province/State:
· Postal code/Zip code: This is the postal code; if there is none, check No Postal Code/Zip Code
· Country: The country
Country Where You Live Today (Current country)
In section 9, select your current country—where you currently reside.
h - Phone number and e-mail address
Sections number 10 and 11, respectively, ask for the phone number, which is optional, and the email address.
Please try to provide a valid email because it is with your email that you can try to retrieve your confirmation number in case you forget it.
What is the highest level of education you have achieved as of today?
The question in this section is about your current level of education.
· Primary school only: Primary education only
· High School, no degree: Secondary education without a degree
· High School degree: Secondary education degree (BAC or EXETAT)
· Vocational School: Professional or technical education
· Some University Courses: Undergraduate university education without a degree
· University Degree: Undergraduate university degree
· Some Graduate Level Courses: · Undergraduate Studies, No Degree: Completed some university courses but did not receive a degree
· University Degree: Completed an undergraduate degree
· Some Graduate Level Courses: Completed some graduate level courses but did not receive a degree
· Master's Degree: Completed a graduate-level degree (master's)
· Some Doctorate Level Courses: Completed some doctorate level courses but did not receive a degree
· Doctorate Degree: Completed a doctorate-level degree (Ph.D.)
I - What is your current marital status?
In this section, you will need to select your marital status. Are you married? Single? Divorced? Please indicate here. However, being in a relationship does not necessarily mean that you are married. The person who is married is the one who has a marriage certificate issued by the state. Do not mention your girlfriend or fiancée with the idea that you will soon be getting married. Get married before saying her, or choose single. You can add her later if you are selected.
j - Number of Children:
Enter the number of children you have. If you do not have any children, put 0 or leave it blank. If the number of children is positive, you will be asked to fill out all sections, including photos for each child, after clicking the continue button.
k - Number of Children
Fill in the number of children you have. If you do not have any children, put 0 or leave it blank. If the number of children is positive, by clicking on the next section, you will be asked, after clicking the continue button for each child, to fill in all areas, including photos.
IV - How do I know if I have been selected?
Registration for the lottery takes place for one month in the fall, usually from October to November. The following year, once the winners are randomly selected and the date is known, it is up to you to check the results to see if you have won. The US government does not directly communicate with the winners.
Where to check the Green Card lottery results?
To check if you have been selected, visit the official DV Lottery website, usually at the beginning of May each year.
Note that in the first few days, the servers may be overloaded. Be patient and try again later.
The verification procedure takes place in four steps:
1. "Confirmation Number": Enter the confirmation number assigned to you when you registered. If you no longer have it, click "Forgot Confirmation Number."
2. "Last/Family Name": Indicate your last name.
3. "Year of Birth": Enter your birth year (4 digits).
4. "Authentication": Enter the characters in the image for security reasons.
Once these four steps are completed, you must take a deep breath and click the "Submit" button.
V - WHAT TO DO AFTER OBTAINING THE VISA?
After obtaining your results, you must do several things to finalize your visa application:
1. Once the verification is complete, you will be entitled to a case number. It will be on your verification page, which is imperative because the rest of the steps cannot proceed without it.
2. Verification of degree or personal experience. You must either have a high school diploma or an attestation of professional training in the field you are applying for.
3. Fill out a document called the DS260 using your case number. It is a reasonably voluminous document that will take you hours to complete. But take the time to do it well because there will be no way to return it once it is done and sent.
4. Do not forget to print the confirmation page and bring it to the interview, which will be held at the US embassy in your country.