Stay Cool and Beat the Heat with a Neck Fan: Your Ultimate Guide to Beating the Summer Heat
Oct 26, 2023
0 Comments
509 Views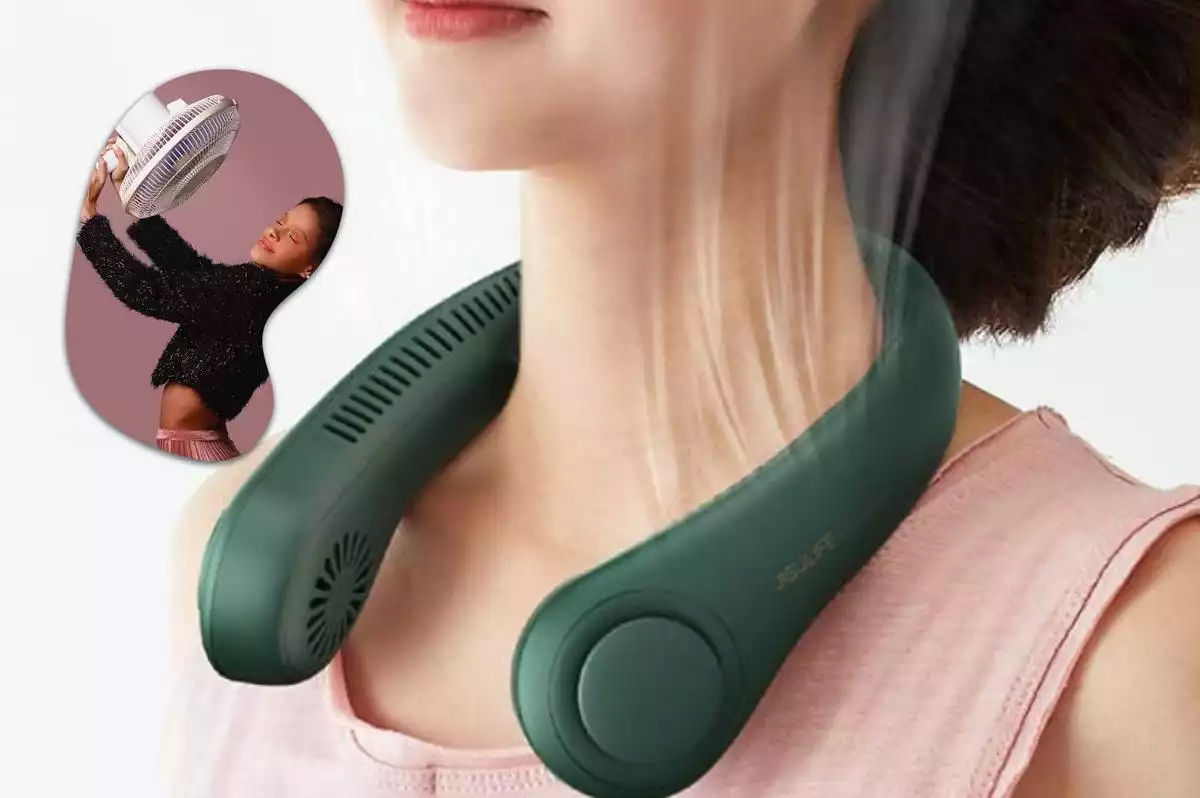 This image is Brought to you by EntreFemme
Hot summers can sometimes be overwhelming, and finding effective ways to stay cool on the go is essential. While hats and umbrellas are fashionable accessories, they don't provide that refreshing breeze we crave. Handheld portable fans are convenient, but they require constant use of our hands. Thankfully, the Neck Fan is an innovative solution to stay cool this summer without compromising our comfort or freedom of movement. This revolutionary electric neck fan gently wraps around your neck and delivers a cool breeze to your face, neck, and head while freeing your hands to carry on with your daily activities. In this article, we will introduce you to the unique features of this neck fan, its discreet design, and the practical benefits that make it an indispensable accessory for hot summer days.
The Features of Your Neck Fan
The Jisulife Portable Neck Fan offers a range of remarkable features that make it an ideal choice for staying cool during hot summer days. Here's an overview of the critical functionalities of this innovative neck fan:
Enveloping and discreet design: The Neck Fan is specially designed to comfortably wrap around your neck, providing ventilation to your face, neck, and head without being intrusive. Its shape resembles an earphone's, allowing it to blend discreetly with your outfit without drawing attention.
Refreshing and silent breeze: This neck fan uses ultra-quiet fan blades to create a gentle and refreshing breeze. Even in high mode, the noise level remains extremely low, allowing you to enjoy the cooling effect without being disturbed by fan noise. You can go about your daily activities while staying cool.
Adjustable speed settings: The JNeck Fan offers multiple speed options to suit your preferences and the weather conditions. You can choose between different levels of ventilation intensity to find the one that suits you best. Whether you need a gentle breeze or a more intense cooling, this neck fan provides the necessary flexibility.
Long-lasting rechargeable battery: This neck fan has a built-in rechargeable battery that provides extended operating time. You can use it for hours without worrying about frequent recharging. Additionally, it is easy to recharge via a USB cable, making it convenient for daily use.
Lightweight and portable: The Neck Fan is designed to be light and easy to carry. You can fold it up and slip it into your backpack, handbag, or even your pocket when you're not using it. It is perfect for travel, outdoor activities, trips, and moments when you need fresh air.
The following section will explore the practical benefits of using the Jisulife Portable Neck Fan and how it can enhance your comfort during hot summer days.
Practical Use of Your Neck Fan
The Jisulife Portable Neck Fan offers practical use in various situations, making it a versatile accessory for staying cool during hot summer days. Here are some examples of cases in which this neck fan can be used:
Outdoor activities: Whether you're strolling in a park, hiking, or engaging in outdoor sports activities, the Neck Fan will keep you comfortably cool. Wrap it around your neck and enjoy the refreshing breeze while staying active.
Travel: It is essential to stay relaxed and comfortable when traveling, especially during the summer season. The Neck Fan is compact and lightweight, making it ideal for travel. Whether traveling by plane, train, or car, this neck fan will accompany you everywhere. Just take it out of your bag and turn it on to cool down instantly.
Office: Offices can sometimes become stuffy, especially when the air conditioning is ineffective. The Neck Fan is a perfect companion for staying cool during working hours. You can discreetly wear it around your neck and enjoy a cool breeze while focusing on your tasks.
Sports activities: Whether running, cycling, or engaging in any other sport, the Neck Fan can help you stay comfortable during your workouts. Its hands-free design allows you to move freely while benefiting from refreshing ventilation.
Many users of Neck Fan have shared their positive experiences and the benefits they have felt while using it. Some have mentioned the fan's lightweight design, ease of use, and battery life, allowing them to stay calm for extended periods without recharging frequently.
Is a bladeless neck fan better?
A bladeless neck fan offers several advantages that make it attractive to many users. Unlike traditional fans with blades, bladeless neck fans use innovative technology to create a powerful, refreshing airflow. Here are some reasons why a bladeless neck fan can be considered better:
Improved Safety: One of the main advantages of a bladeless neck fan is its secure design. Without exposed rotating blades, it eliminates the risk of fingers or hair getting caught. This makes it a safer option, especially for children and pets.
Enhanced Comfort: Bladeless neck fans provide a more pleasant cooling experience. The airflow is consistent and gentle, avoiding the unpleasant sensations of uneven air gusts or turbulence caused by blades. This allows for optimal comfort, mainly when worn directly on the neck.
Reduced Noise: Bladeless neck fans are generally quieter than their bladed counterparts. Their design helps reduce vibrations and noises associated with blade movement, offering a more peaceful and relaxing experience.
Ergonomic Design: Bladeless neck fans are specially designed to fit comfortably around the neck. Their lightweight and ergonomic design allows for extended periods of wearing without discomfort. Some models even offer customized adjustment options to suit different neck sizes.
Easy Maintenance: Bladeless neck fans are easier to clean and maintain with no blades to dismantle and clean individually. This greatly simplifies the maintenance process.
It's important to note that personal preferences may vary from person to person. Some users may prefer the sensation of a traditional bladed fan, while others prioritize the advantages of a bladeless neck fan. Therefore, it's essential to consider your needs and preferences before choosing.
Get your Jisulife Portable Neck Fan by clicking here.
The Neck Fan is the perfect accessory to stay cool during hot summer days. Its unique and discreet design wraps around the neck and provides a refreshing breeze without disrupting your comfort. Its portability and ease of use make it a convenient companion in various situations, whether outdoors, during travels, at the office, or during sports activities.
To purchase the Neck Fan and take advantage of special offers, follow the Amazon link in this article or visit our online store by clicking here. You will find positive testimonials from satisfied users who have appreciated the fan's lightweight design, ease of use, and long battery life.
Feel free to visit our online store to discover other products related to summer comfort, as well as our blog, where you will find more information and valuable tips. Stay calm and fully enjoy the summer with the Neck Fan!