Top 3 Richest People in the 5 Continents
The accumulation of wealth is a fascinating subject that sparks the interest of many people worldwide. Some individuals have managed to amass colossal fortunes, elevating their financial status to extraordinary levels.
Sep 02, 2023
0 Comments
712 Views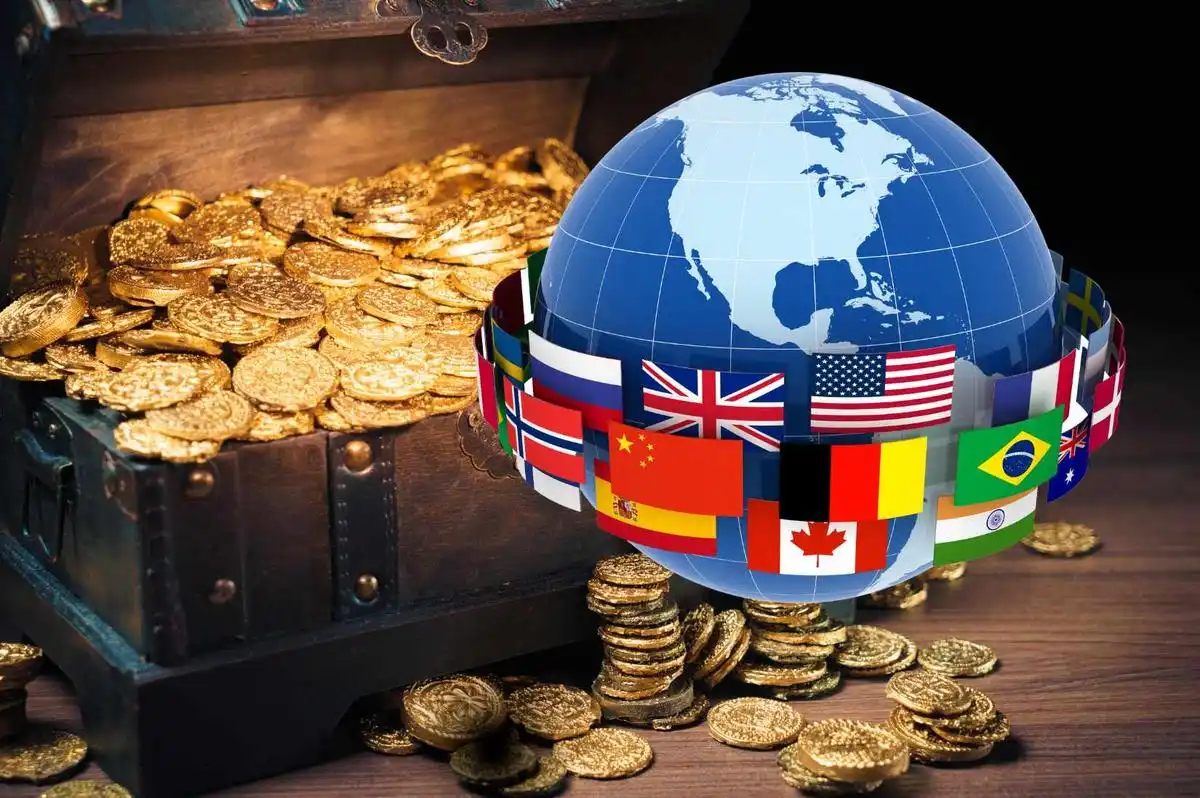 World flags on a Treasure chest filled with gold coins
This article will explore the wealthiest individuals on the six continents and delve into the success stories that propelled them to the top. From the e-commerce tycoon to the visionary entrepreneur and the heirs of vast commercial empires, these individuals have built fortunes that defy comprehension. Their journeys are often marked by innovation, perseverance, and calculated risk-taking. Get ready to delve into the world of billionaires and discover the captivating stories of individuals who turned their ideas into monumental fortunes.
1. America :
Elon Musk
Elon Musk, the visionary entrepreneur and engineer, was born in Pretoria, South Africa, on June 28, 1971. As of 2023, his fortune is estimated at 180 billion dollars. Musk displayed a keen interest in technology and entrepreneurship from a young age. He taught himself computer programming and developed a passion for innovation and exploration.
In the early 1990s, Musk left South Africa to pursue his dreams in the United States. He enrolled at Stanford University but dropped out after two days to focus on his entrepreneurial projects. Musk co-founded Zip2, a software company that provided newspaper business directories and maps. The company garnered much attention and was eventually acquired by Compaq for 307 million dollars in 1999, marking Musks first significant success.
With the proceeds from the sale of Zip2, Musk founded X.com, an online payment company that later became PayPal. Under his leadership, PayPal revolutionized how online payments were made, providing a secure and convenient platform for e-commerce. In 2002, eBay acquired PayPal for 1.5 billion dollars, cementing Musks reputation as a successful entrepreneur.
However, Musks ambitions did not stop there. He had a grand vision of transforming the automotive and space industries. In 2004, he founded Tesla Motors (now Tesla, Inc.) to produce electric vehicles that would revolutionize transportation and reduce the dependence of the world on fossil fuels. Musk faced many challenges along the way, but his determination and belief in the potential of electric vehicles led to the success of Tesla and its groundbreaking electric car models.
In addition to Tesla, Musk founded SpaceX in 2002 with a mission to make space exploration and colonization possible. SpaceX has achieved remarkable milestones, including becoming the first privately funded company to send a spacecraft to the International Space Station and successfully landing reusable rockets. Musks vision for SpaceX extends beyond Earth, aiming to establish a human colony on Mars.
Elon Musks incredible success and ambitious goals have made him a household name, with his companies shaping not only industries but also inspiring a new generation of entrepreneurs and visionaries. His journey is a testament to the power of boldness, perseverance, and an unwavering belief in the potential of technology to change the world.


Bill Gates
Bill Gates, born on October 28, 1955, in Seattle, Washington, is a globally renowned American computer scientist, entrepreneur, and billionaire. He is best known for co-founding Microsoft in 1975, a company that revolutionized the computer industry and earned him immense wealth.
Thanks to the phenomenal success of Microsoft, Bill Gates became one of the wealthiest people in the world at the age of 31 in 1987. His fortune has significantly grown over the years, making him the worlds richest man for many years. 2021 despite his numerous philanthropic commitments and gradual withdrawal from Microsofts daily activities, he remains one of the wealthiest individuals on the planet, with an estimated fortune of $124 billion in 2021 and $120 billion in 2023.
In addition to his successful business career, Bill Gates is known for his dedication to philanthropy. In 2000, he and his wife, Melinda, established the Bill & Melinda Gates Foundation, a nonprofit organization that works to improve global health, fight poverty, and promote education. Bill Gates devotes a significant portion of his wealth to humanitarian causes and sustainable development projects worldwide through this foundation.
His impact on the technology field and his commitment to improving the lives of the less fortunate make Bill Gates an essential figure of our time. His journey inspires many entrepreneurs, and his vision of a better world guides his philanthropic actions. Bill Gates is a true icon of success and dedication to the well-being of humanity.
Jeff Bezos
Jeffrey Preston Bezos, born on January 12, 1964, is an American entrepreneur known for being the founder of Amazon, the global giant in e-commerce and cloud computing. His fortune is estimated at 150 billion dollars as of July 2023, ranking him among the wealthiest people in the world.
Bezos started his career in the financial sector after graduating with a degree in electrical engineering and computer science from Princeton University in 1986. However, his true turning point came in 1994 when he founded Amazon in the garage of his home in Seattle. Originally a simple online bookstore, Amazon has become an e-commerce behemoth offering many products and services.
Under Bezos leadership, Amazon experienced explosive growth, transforming how people buy and sell online. The company expanded its footprint by entering new areas such as video streaming, cloud computing, and artificial intelligence through Amazon Web Services (AWS).
In addition to Amazon, Bezos ventured into the aerospace industry by creating Blue Origin in 2000, a company dedicated to space exploration. He also acquired The Washington Post in 2013 and is involved in various investments through his venture capital firm, Bezos Expeditions.
Thanks to his visionary mindset and leadership, Bezos has left an indelible mark on business and technology. His inspiring journey from a modest online bookstore to a global empire is a role model for many aspiring entrepreneurs. His pursuit of innovation and exploration continues to shape the industry landscape and inspire new entrepreneurs to push the boundaries of what is possible.


2. Europe :
Bernard Arnault
Bernard Arnault, born on March 5, 1949, in Roubaix, is an iconic figure in the business world and one of Frances most successful entrepreneurs. With a remarkable career in the luxury industry, he has built an impressive economic empire, making him one of the worlds wealthiest and most influential individuals.
As the majority shareholder and CEO of LVMH (Moët Hennessy Louis Vuitton) group, Bernard Arnault played a crucial role in the rise of this internationally renowned luxury company. Under his enlightened leadership, LVMH has acquired numerous prestigious brands such as Louis Vuitton, Christian Dior, Givenchy, Fendi, Sephora, and others. This acquisition strategy has allowed LVMH to consolidate its position as a luxury industry leader and become the worlds most prominent luxury group.
In addition to his activities in the luxury sector, Bernard Arnault also owns prestigious media outlets in France, including Les Échos, Le Parisien, and Radio Classique. This diversification into media strengthens his influence and presence in the French media landscape.
Since 2019, Bernard Arnault and his family have been ranked as the most significant European fortune, attesting to their success and influence in business. His wealth, estimated at 149 billion euros in 2022 by Challenges magazine and at 238.5 billion dollars by Forbes in May 2023, makes him one of the wealthiest people in the world. Moreover, from December 2022 to June 2023, he held the top spot in Forbes global billionaire ranking before being dethroned by Elon Musk in 2023.
Bernard Arnaults success results from a bold vision, astute management, and the ability to anticipate market trends. His exceptional journey inspires many entrepreneurs and investors worldwide. His perseverance, innovative spirit, and commitment to excellence are keys to his remarkable success in the luxury industry and beyond.
Amancio Ortega
Amancio Ortega Gaona, the visionary Spanish businessman, was born on March 28, 1936, in Busdongo de Arbas, Spain. Coming from a modest family, he grew up with three siblings and faced poverty from a young age. Despite the obstacles, he showed determination and perseverance in building a thriving business empire.
His entrepreneurial journey began early in life when he worked as a messenger in a textile store at 13. Quickly, he developed an interest in the fashion world and learned to sew clothes by hand. His talent and passion led him to work for a local shirt manufacturer named Gala, where he continued to refine his sewing skills.
In 1963, Amancio Ortega achieved a significant milestone by founding his own company, Confecciones Goa, specializing in the manufacturing and selling bathrobes. However, he succeeded in 1975 when he opened the first Zara store in Spain with his wife, Rosalía Mera. This clothing store quickly became a resounding success, propelling Amancio Ortega to the fashion industrys top.
Zaras innovative concept of offering trendy and affordable clothing resonated with a broad audience, and the brand rapidly experienced international expansion. Today, the international textile group Inditex, a significant brand of Zara, includes over 5,500 stores worldwide, a testament to Amancio Ortegas phenomenal success as an entrepreneur.
Beyond his success in the fashion industry, Amancio Ortega diversified into other business sectors, including hospitality with the Spanish chain NH and energy and other areas. His fortune, estimated at 83 billion US dollars in 2022 by Forbes, ranks him among the wealthiest individuals in the world.
In addition to his business achievements, Amancio Ortega is also recognized for his philanthropic actions. In 2017, he received the first Philanthropic Initiative Award from the Association of Spanish Foundations, acknowledging his commitment to humanitarian and social causes.
His exceptional journey and remarkable success are a source of inspiration for many entrepreneurs worldwide. His ability to transform a small textile company into a thriving international empire is a testament to his visionary spirit and determination to overcome challenges to achieve excellence. In 2023, his estimated fortune of 93.5 billion dollars demonstrates that Amancio Ortega continues to leave an indelible mark in business and philanthropy.


Françoise Bettencourt Meyers
Françoise Bettencourt Meyers, the French businesswoman and writer, was born on July 10, 1953, in Neuilly-sur-Seine. As the heiress of Liliane Bettencourt, she holds an important role as a member of the board of directors of the multinational company LOréal, a giant in the cosmetic industry.
Beyond her business role, Françoise Bettencourt Meyers is also an accomplished writer, having written several works on subjects such as the Bible and the relationship between Judaism and Christianity. This passion for writing reflects her intellectual curiosity and desire to explore profound topics.
However, her life is not without controversies. Since 2007, she has been involved in a legal dispute with the writer-photographer François-Marie Banier. This conflict emerged following an extravagant gift of nearly 1 billion euros that her mother gave Banier, sparking debates and tensions within the family.
Thanks to her familys inheritance and her role within LOréal, Françoise Bettencourt Meyers ranks among the wealthiest people in the world. Forbes places her at the 7th position in the global billionaire ranking, with a family fortune estimated at 73 billion dollars. She is also recognized as the wealthiest woman in the world, showcasing her influence and success in the business world.
In France, she is considered one of the top five fortunes in the country and the wealthiest French woman, according to rankings established by Capital and Challenges. Her financial success attests to her business acumen and skillful management of the family fortune.
In summary, Françoise Bettencourt Meyers embodies the essence of entrepreneurial and intellectual success. Her family legacy, her role within LOréal, and her passion for writing make her an influential and respected figure on a global scale.


3. Asia:
Mukesh Ambani
Mukesh Ambani, the Indian business magnate, was born in Aden, Yemen, on April 19, 1957. He is the chairman of the conglomerate Reliance Industries, founded by his father, Dhirubhai Ambani, and is now Indias largest private company, part of the prestigious Fortune Global 500. His success in the business world has propelled his fortune to new heights.
In 2018, the American magazine Forbes estimated his wealth at 40.1 billion dollars, ranking him 13th on the global billionaire list. However, in 2020, his wealth reached an impressive amount of 63 billion euros, making him the wealthiest man in Asia. This spectacular increase in his wealth was due to fundraising of 20 billion dollars (17 billion euros).
Mukesh Ambani is also famous for his 27-story building, "Antilia," which he had built for personal use. This private residence is considered the most expensive in the world, valued at 1 billion dollars. His generosity is also highlighted by his lavish spending, including his daughters wedding in December 2018, where he reportedly spent 100 million dollars. Former U.S. Secretaries of State such as Hillary Clinton and John Kerry were among the prestigious guests.
As a board member of the World Economic Forum, Mukesh Ambani is known to be a close friend of Indian Prime Minister Narendra Modi. He is considered one of the key beneficiaries of the reform aimed at liberalizing agriculture in India.
Mukesh Ambanis trajectory perfectly illustrates his business understanding and ability to transform Reliance Industries into a prosperous empire. His constantly increasing fortune now positions him at an incredible level of wealth, reaching 100.2 billion dollars in 2023. His entrepreneurial success and presence within influential circles make him a significant figure in the global economic landscape.


Zhong Shanshan
Zhong Shanshan, a Chinese businessman, and billionaire, was born in December 1954 in Zhuji, Shaoxing, Zhejiang. His extraordinary journey has led him to become one of Chinas most affluent and most influential personalities.
Despite humble beginnings, Zhong demonstrated determination and perseverance to succeed in business. Challenges marked his academic path, and he left school at 12 due to the disruptions caused by the Chinese Cultural Revolution. However, this did not deter him from pursuing his dreams and entering the professional world.
Before starting his business, Zhong held various jobs, ranging from construction worker to journalist to beverage seller. In September 1996, he founded Nongfu Spring, a company specializing in bottled water production. This business became the largest beverage company in China, and its success propelled him to become the wealthiest man in China.
In addition to leading Nongfu Spring, Zhong is also the chairman and shareholder of the Chinese pharmaceutical giant Beijing Wantai Biological Pharmacy Co. Ltd. His influence extends to different economic sectors, showcasing his versatility and expertise as a business leader.
Zhong remains discreet and reserved despite his wealth and success, often avoiding public appearances and interviews. This attitude has earned him the nickname "lone wolf" in the Chinese media.
Zhong Shanshans trajectory is an inspiring example of entrepreneurial success and perseverance. His remarkable success and position as the wealthiest person in China attest to his leadership talent and significant impact on the Chinese economy. His unique journey is a source of inspiration for many entrepreneurs and business leaders in China and worldwide. His fortune is estimated at $62.5 billion in 2023.


Zhang Yiming
Zhang Yiming, a Chinese entrepreneur born on April 1, 1983, in Longyan, Fujian province, is an iconic and multi-billionaire figure in the internet industry.
After earning a degree in computer engineering with a specialization in microelectronics from Nankai University in Tianjin, Zhang Yiming quickly ventured into entrepreneurship. In 2009, he acquired Kuxun, initiating the development of innovative applications.
In 2012, Zhang Yiming co-founded ByteDance, a company that rapidly gained momentum and is currently valued at 300 billion euros despite a 25% drop in 2022. Under ByteDance, he launched the Toutiao app, a news content aggregator, using artificial intelligence techniques to personalize user content.
One of Zhang Yimings most iconic achievements is the launch of TikTok in 2017, a video-sharing platform that achieved phenomenal success worldwide. TikTok is, in fact, the international version of Douyin, a video-sharing app launched in China as early as 2016.
However, ByteDances success has not been without controversies. In April 2018, a feature of the Toutiao app that allowed users to exchange jokes and humorous videos was shut down by Chinese authorities. Zhang Yiming publicly apologized and pledged to hire thousands of employees to control sensitive content by the Chinese Communist Partys guidelines.
Despite challenges, Zhang Yiming remains a major player in the internet industry in China and globally. His ability to innovate and create popular and groundbreaking products has earned him a prominent place among the most successful entrepreneurs in the world, with a fortune estimated in billions of euros. His journey and achievements continue to inspire many aspiring entrepreneurs and technology enthusiasts. He currently has an estimated wealth of 45 billion dollars.


4. Africa :
Aliko Dangote
Aliko Dangote, a Nigerian businessman born on May 5, 1959, in Kano, is recognized as the wealthiest man in Africa by Forbes magazine. Coming from a family of traders, he quickly proved himself in the business world, influenced by the teachings of his maternal grandfather, Sanusi Dantata, who was once considered the wealthiest man in West Africa.
As early as 1977, with financial support from his uncle and a few cement trucks inherited from his grandfather, Aliko Dangote founded Dangote Cement, a successful company in the cement sector, which was scarce and expensive in Nigeria then. Gradually, he expanded his activities into various fields, such as sugar, rice importation, and industries. In 1981, he established the Dangote Group, a diversified company that plays a significant role in Nigerias economy today.
Aliko Dangote pursued a strategy of continuous growth and expansion. He took some of his companies public on the Nigerian stock exchange, making Dangote Cement the most significant market capitalization company in Nigeria. Through ambitious investments, his group owns the largest cement production plant in Sub-Saharan Africa, and he has also expanded operations to other countries on the continent, such as South Africa, Zambia, Ethiopia, Senegal, Mozambique, and Cameroon.
However, despite his success, Aliko Dangote has not been without controversies. In 2018, he gained attention by claiming to be much richer than the renowned American personality Oprah Winfrey. His entrepreneurial approach is characterized by a commitment to reinvest his profits in his country and prioritize Nigerias domestic market.
In addition to his business activities, Aliko Dangote is also recognized for his philanthropic efforts and support for the African Continental Free Trade Area.
In 2023, his fortune is estimated at 13.2 billion dollars, making him an iconic figure of entrepreneurial success in Africa. His journey inspires and fascinates, but it also faces criticism concerning his business practices and political influence. Nevertheless, he remains a prominent player in the African economy, representing his country and contributing to the development of the continent.
Nicky Oppenheimer
Nicky Oppenheimer, whose full name is Nicholas F. Oppenheimer, is a South African businessman born in Johannesburg on June 8, 1945. He inherited a solid entrepreneurial lineage as the grandson of the founder of Anglo-American Ernest Oppenheimer and the son of Harry Oppenheimer.
After studying politics, philosophy, and economics at the University of Oxford, Nicky Oppenheimer began his career in 1968 as a personal assistant to the board of directors of Anglo American, a company then led by his father. Over the years, he climbed the ranks within the company until becoming its director in 1974.
In 1978, he assumed the director position of the diamond mining company De Beers, a major player in the diamond extraction industry. His skills and expertise eventually led him to become the chairman of the board of De Beers in 1998.
Always in search of new opportunities, Nicky Oppenheimer founded Greene and Partners Investments in 1999, an investment fund focusing on projects in Africa.
In 2002, the film "Blood Diamond" sparked controversy in the diamond industry by exposing conflicts related to diamond mining. Nicky Oppenheimer strongly reacted to the film, considering it did not accurately represent the reality of the sector.
In November 2011, the Oppenheimer family decided to sell the 40% stake they held in the De Beers group to Anglo American, a British holding company. Despite this sale, Nicky Oppenheimer retained significant investments in the British holding company Anglo American.
Nicky Oppenheimer fortune is currently estimated at 8.4 billion US dollars, according to Forbes, in 2023. His remarkable career and investment activities testify to his significant role in the business world in South Africa.


Johann Rupert
Johann Rupert, the eldest child of magnate Anton Rupert, is a prominent figure in the business world. He has been chairman of the Swiss luxury goods company Richemont since April 2010, following an announcement in November 2009. He is also at the helm of Remgro in South Africa. His fortune and his family were estimated at $7.7 billion in September 2013, placing him among the top five wealthiest individuals in South Africa, according to Forbes ranking.
Johann Rupert chairs the Swiss company Compagnie Financière Richemont, best known for luxury brands such as Cartier and Montblanc. This company was established in 1998 after the separation of assets held by Rembrandt Group Limited (now Remgro Limited), founded by his father, Anton in the 1940s.
In addition to his role as chairman at Richemont, Johann Rupert holds 7% of Remgro, a diversified investment company of which he is also the chairman, and 26% of Reinet, a Luxembourg-based investment holding company.
Beyond his business activities, Johann Rupert is known to be a staunch opponent of hydraulic fracturing (fracking) projects in the Karoo region of South Africa, where he owns land.
As of 2021, Johann Ruperts current fortune is estimated at $11 billion. He remains one of the most influential personalities in the business world in South Africa and continues to leave a significant mark in the luxury and investment sectors.


5- Oceania :
Gina Rinehart
Georgina "Gina" Hope Rinehart is an Australian businesswoman and heiress to the Hancock Prospecting mining empire, specializing in iron ore. In May 2012, she became the richest woman in the world with an estimated fortune of 29.5 billion euros, surpassing personalities such as Christy Walton and Liliane Bettencourt. However, her stances have sparked numerous controversies in Australia.
Born on February 9, 1954, Gina Rinehart inherited the mining empire founded by her father, Lang Hancock, in 1992, which bestowed upon her a position of considerable power and wealth. As an heiress, she holds 10% of the shares in Australias third television network, Channel 10, and most shares in the countrys second-largest newspaper group, Fairfax Media.
However, Gina Rinehart is also known for her controversial stances. Her father, Lang Hancock, had proposed radical measures in the past to eliminate Aboriginal Australians, an idea that stirred outrage and controversy. Additionally, her relationships with her children have been tumultuous, and she has conflicted with some of them over the family inheritance.
In 2013, Gina Rinehart made a particularly controversial decision by changing the date of the transfer of ownership of the family business to her children, delaying it to 2068 when her children will be aged 80 to 90. This action led to lawsuits from three of her four children, who felt aggrieved and disagreed with this modification.
Despite her considerable wealth and influence in the business world in Australia, Gina Rinehart remains a polarizing figure, eliciting both admiration and controversy. Her actions and positions have significantly impacted the countrys political and social scene, making her a highly publicized and debated personality in the Australian landscape. Her current fortune is $27.8 billion (2023).
In America, we find iconic figures like Elon Musk, the founder of Tesla and SpaceX, who has revolutionized the automotive and space industries. Similarly, Jeff Bezos, the visionary behind Amazon, has transformed how we buy and consume goods online.


In Europe, Bernard Arnault has made a mark in the luxury sector as the chairman of LVMH, holding some of the most prestigious brands in the world. Similarly, Amancio Ortega has created an empire in the fashion industry with the brand Zara.


Aliko Dangote and Johann Rupert have left their mark on the business world with their exceptional achievements in Africa. Dangote has become an iconic figure as a diversified businessman and investor, while Rupert has played a key role in the diamond and luxury industries.


These billionaires are not only symbols of financial success, but they have also influenced their respective industries and contributed to the economic development of their countries. Their inspiring stories and remarkable journeys are a source of motivation for entrepreneurs and investors around the world.


Discover the profiles of the most influential billionaires from three continents: America, Europe, and Africa. Visionaries like Elon Musk and Jeff Bezos in America, Bernard Arnault and Amancio Ortega in Europe, as well as Aliko Dangote and Johann Rupert in Africa, who have built economic empires and revolutionized industries. Dive into their inspiring journeys and discover how these business leaders have made their mark in their sectors and contributed to the economic development of their countries.


Discover the profiles of the most influential billionaires from three continents: America, Europe, and Africa. Visionaries like Elon Musk and Jeff Bezos in America, Bernard Arnault and Amancio Ortega in Europe, as well as Aliko Dangote and Johann Rupert in Africa, who have built economic empires and revolutionized industries. Dive into their inspiring journeys and discover how these business leaders have made their mark in their sectors and contributed to the economic development of their countries.